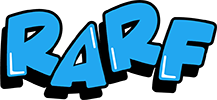 Programs
We are constantly expanding our initiatives and programs to meet the needs of our animal welfare partners and make an impact on communities nationwide.
Team RARF
Introducing TEAM RARF! This new take on our flagship program, Ryans Monthly Rescue (RMR), invites animal welfare staff, volunteers, and fosters to join our TEAM via a private Facebook group.
This private group is for volunteers and staff in Animal Welfare nationwide to engage and post photos, stories, and videos of difficult to adopt or long length of stay cats and dogs. The TEAM has the support of RARF and Logan Ryan's far-reaching social media platform to promote adoptable pets.
Are you a volunteer or staff within Animal Welfare and want to join our Team? Click Here to join and be sure to answer the membership questionnaire!
*Please note: Any membership request from a non-active volunteer or staff within a shelter or rescue will be denied.
RMR
Ryan's Monthly Rescue, or better known as #RMR is the founding program of RARF.  Each month, Logan would post "selfies" with an adoptable animal to his social media pages, in hopes that by providing them with extra exposure to his growing fan base he could help them find their new family.
Initially, RMR candidates would need to be local to where the Ryan family was living. (football causes you to move a lot!) With the COVID-19 pandemic affecting in-person visits coupled with a long-time desire to bring RMR nationwide, Logan decided it was time to reinvent the RMR program!
Thanks to our new Team RARF program, RMR is now fully virtual! Team RARF allows for RARF to assist animals from all over the U.S.! We focus on animals who are having a difficult time finding a home, whether facing behavioral or medical obstacles or just being overlooked in the shelter time and time again.
Each month Logan selects an animal from our Team RARF group and we create custom RARF graphics to promote them for adoption using Logan and RARF's social media platforms. RMR now also features an interactive interview helping to shine a light on what our RMR animals are like up close and personal!